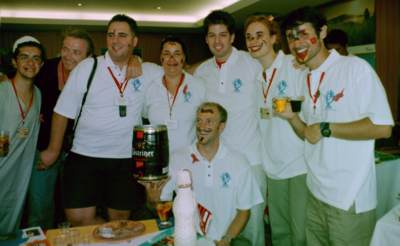 International Bazaar
A crowded room with colourful decorated stands with posters, banners, typical food and delicatessen and drinks - people painted in their faces and wearing traditional clothes of their country, having brought music and even videos and being in lively discussions - is what you get to see and makes you feel like being on an international bazaar and gives you an unforgettable memory – the taste of having been on an IADS congress.
IADS in Berlin – You are more than welcome!
Also this time we are looking forward to enjoying a very lively exhibition with the vote of the best presentations.
Will it be again one of the winners in Egypt? The russian colleagues with their caviar? Our slovenian friends with their special "Over
Mura moving cake" (a cake which is moving over the slovenian river Mura J) or our czech representatives with their Sauerkraut and dumpling?
Or turkish delights and kebab? Finish sweets? Hungarian wine? Italian Salami? Egyptian shisha with apple flavour?...
During the congress in Istanbul last year Ingrid and Hege from Norway impressed everybody with their live made waffles, which were sooo tasty J.
You can see, one's competitors never sleep and we are really curious about next time's show.
Send your special recipe to us!!
For Berlin the congress committee wants to offer a further possibility to you: send us a recipe of a typical student's meal of your country and we will try our best to prepare the food so that it will be ready for the evening.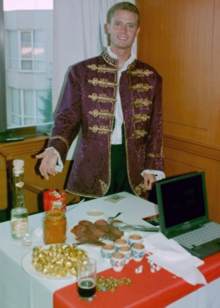 International Song Competition:
Not only the nicest stand but also the best performance should be taken into consideration when IADS is voting for its "SUPERCOUNTRY 2004".
IADS Song and Cooking Book:
All recipes and song texts shall be collected in a book, so think about it and send them to congress@iads-congress.de.
The congress committee is waiting for your contributions and hopes to welcome many many countries to make this evening unforgettable.
With best wishes,
your congress committee.
Taskin Tuna